Get All Amazing Features in Just One Tool

At Unbeatable Price!
Regular vs Extended License: If you want to distribute your final product for free, select the Regular License; if it will be sold or otherwise only available to clients who can pay, select the Extended License.
SPEND
LESS TIME

ON ADMINISTRATIVE TASKS, AND

MORE TIME

ON WHAT YOU'RE GOOD AT, USING

Ethereal ERP

, AN ALL-IN-ONE BUSINESS SYSTEM.
STREAMLINE YOUR WORK

TAKE YOUR BUSINESS TO THE
NEXT LEVEL.
Ethereal ERP is designed for businesses of all sizes.
Ethereal ERP makes managing your business easier than ever.
It takes the hassle out of using multiple tools and puts everything you need in one place.
What Our Customers Say
About
Our Solutions
This is actually a complete ERP system with a very stunning look and VERY FAST SUPPORT
@ Dawnysuccess

from codecanyon
Thanks for Great Customer Support and Good Quality Code.
Excellent support and amazing ERP
@ mrblue9876

from codecanyon
@ fatecmais 2

from codecanyon
Brilliant and well-thought CRM/PRM/HRM! A real value for money!...
@ attunist

from codecanyon
Testimonial current-slide / Total
LOOKING FOR A SIDE HUSTLE?
OWN YOUR
SaaS

AND SCALE
YOUR BUSINESS!
Buy Your Extended License Now, and Start Growing The Number of Your Paying Customers.
Ethereal ERP SaaS
The ultimate all-in-one tool is ETHEREAL ERP SaaS. ETHEREAL ERP SaaS is the ideal choice for you whether you want to automate internal business procedures or sell subscriptions to other companies.
"Use in a single finished product for which customers are not compensated by you or one client. The item price and a buyer fee make up the overall cost."
STOP WASTING TIME AND MONEY ON MULTIPLE TOOLS
MANAGE ALL ASPECTS OF YOUR BUSINESS WITH ONE POWERFUL TOOL
Buy Your Regular License Now, Start Managing Your Team, and Grow Your Business.
Ethereal ERP
The ultimate all-in-one tool is ETHEREAL ERP. ETHEREAL ERP is the ideal option for you if you wish to consolidate all of your operations under one roof or just streamline your business processes.
MANAGE & ORGANIZE YOUR ENTERPRISE USING

THE #1

END-TO-END

CONSOLIDATED SYSTEM
Ethereal ERP

All-In-One Business System
Always looking for better ways to do things, innovate and help people achieve their goals. Ethereal ERP covers the full spectrum of managing Human Resources, Accounting systems, Leads Management, Sales, Invoicing, Customer Support, and much more
Trusted by more than
500 customers

who purchased

Ethereal ERP

for their companies around the globe.

Ethereal ERP has the most comprehensive dashboard with all the essential details under one system. Ethereal ERP Dashboards have made business owners' lives easier, from every detail like total Clients, Users, Invoices, Projects, and estimations to Leads, Deals, and items, where you can get quantitative data in the most simple layout.
More than
250 Customization requests

by the trusted customers around the global.

Ethereal ERP has the most flexible system and features to be customized based on your exact business needs. Our creative and experienced developers are ready to make all the changes that you need for your business. Ethereal ERP customization options have made business owners' lives easier, from every detail in the functionalities and the system design.
Accounting and Billing Management
Stay compliant and report your
finances accurately
Ethereal ERP enables you to stay compliant and report your finances accurately, including Chart of Accounts, Journal Entry, Balance Sheet, and General Ledger.
Choose the right sales tax automation software
Automate tax calculation by creating different tax rates and easily manage your inventory by adding products and categorizing them, assigning SKUs, and set sales and purchase prices.
Transform your business into a sales machine
Use the multi-user accounting tool to assign roles and permissions to each staff member. Manage staff permissions and take control over access.
GET ALL THE CRITICAL TOOLS TO MANAGE
BUSINESS FINANCES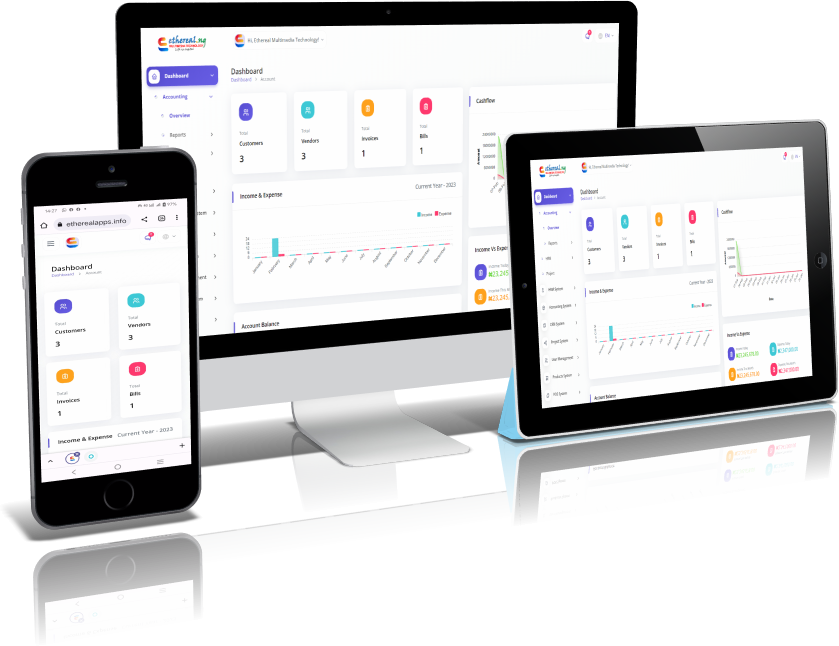 Get All The Critical Tools To Manage Business Finances:
Get everything you need to stay compliant and report your finances accurately,including Chart of Accounts, Journal Entry, Balance Sheet, Trial Balance, and General Ledger.
Add team members or invite vendors and cooperate with others on growing your business and managing your finances.
Easily manage your inventory. Add products, categorize them, assign SKUs, and set sales and purchase prices.
Control invoices and send payment reminders. Add bank accounts and record payments, transfers and expenses.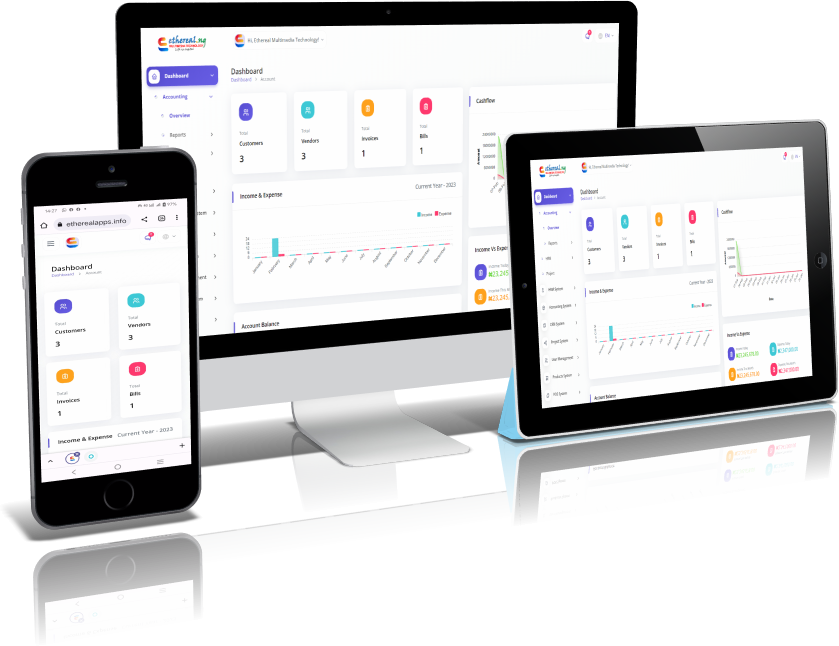 Automate Your Accounting And Billing:
Get your product inventory updated automatically any time you generate an invoice/bill.
Set financial goals and get them automatically tracked based on the financial activities you record.
Automate tax calculation by creating different tax rates and adding taxation information to products in your inventory.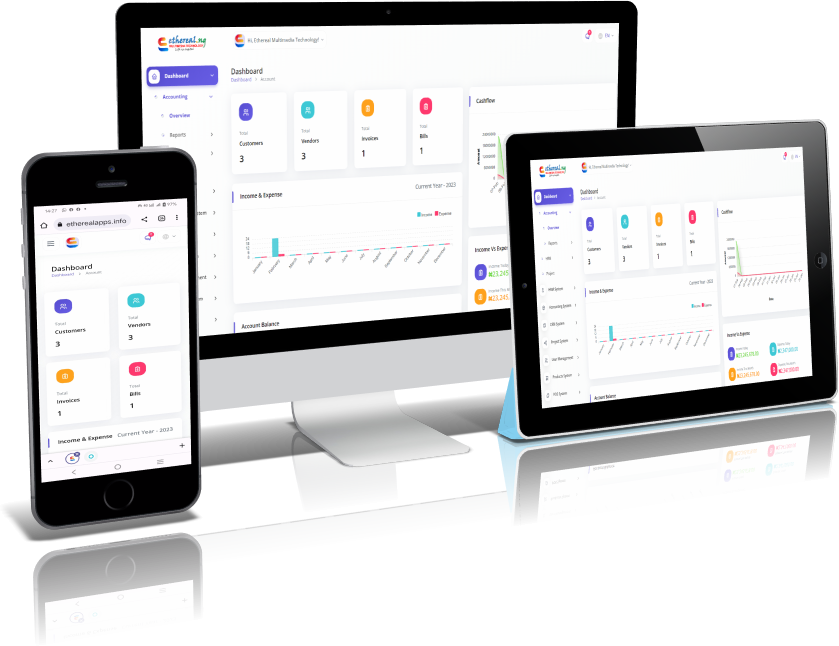 Make Smart, Informed Decisions:
Easily create multiple financial reports including income, expense, tax, and transaction summaries.
Enjoy instant access to your current financial situation data. Get more control over your money and see where it's going.
Create monthly, quarterly, or yearly budgets. Get more control over your finances and improve your asset management.
Set annual or periodic financial goals and then use dashboards to track your financial performance against them.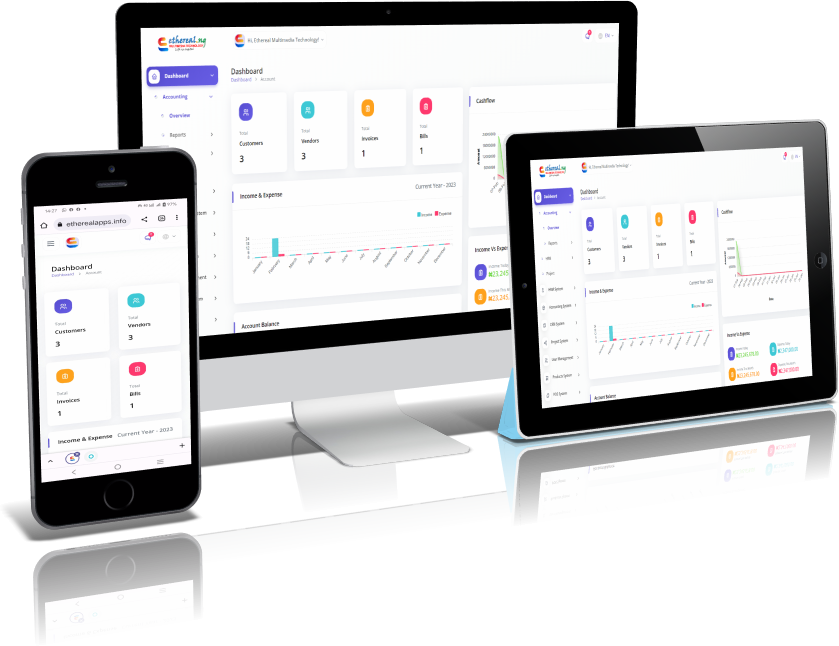 Take Your Project From Proposal To A Payment:
Create proposal templates for different services and pitch your future clients in seconds.
Turn your accepted proposals into payable invoices in one click.
Add different products and services right inside Ethereal ERP and easily generate invoices using one of the elegant, editable templates.
Send reminders and accept payments using leading payment methods such as Stripe and PayPal.
Manage HR - Business Greatest Assets
Manage all employee matters
with Ethereal ERP
Whether you employ 5, 50, or 500 people, with Ethereal ERP, you can manage all employee matters. From hiring to performance and salaries - everything is under one roof.
Customize your easy-to-use HRM system
Customizable, versatile, and easy-to-use complete HRM system. You can also manage the Attendance, Bulk Attendance, Holidays, Leaves, Meetings, Assets, Documents, and Company Policies. Create, Edit and Filter as per your convenience.
Get A Detailed Understanding Of Each Aspect Of The Employee
Get a calendar view for every deal detail. In short, managing deals has never been easier with the Ethereal ERP 360 degrees of deals visibility in the system.
HANDLE ALL FACETS OF YOUR HR
WITHOUT LIFTING A FINGER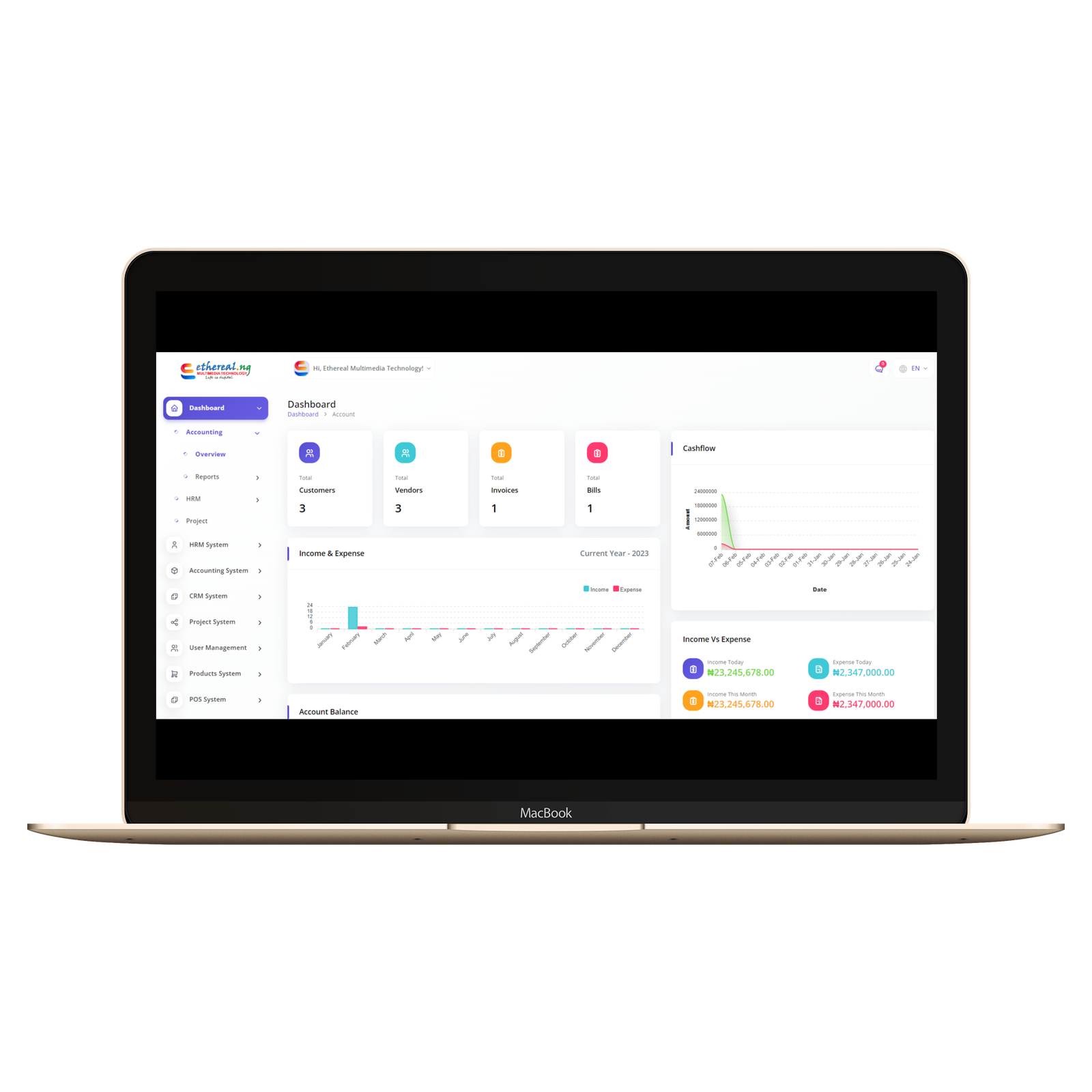 Manage Key Employee Matters Easily:
Create a profile for every employee and track their key information,including position, salary, and career progress. Update and change their information in just a few clicks.
Track employee contract status. Transfer them to different departments,and branches, or terminate the contract if needed.
Collect and analyze feedback about their work, including warnings and complaints issued by their managers or other employees.
Keep an eye on employee availability. Track their trips, holidays, and sick leaves and help managers reschedule or reassign their work.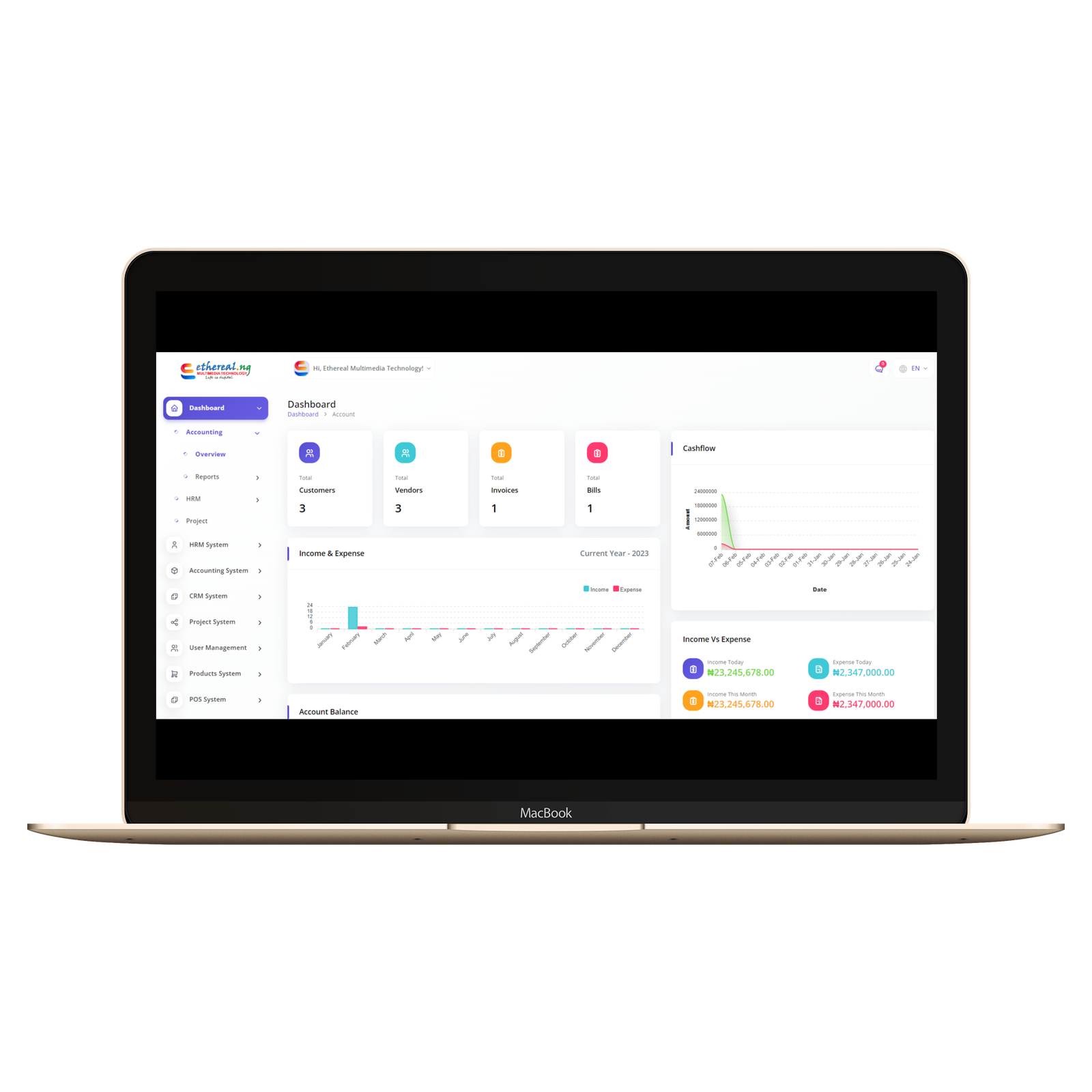 Recruit New Candidates and Grow Your Team:
Speed up your hiring process. Use built-in hiring features to create and manage new job openings and fill your open positions faster.
Collect and manage applications from start to finish. Easily compare candidates and pick the best one for the job.
Create a candidate pipeline. Get a clear view of all the potential candidates and the recruitment stages they're in.
Schedule interviews, create interview questions, and assign interviewers in just a few clicks.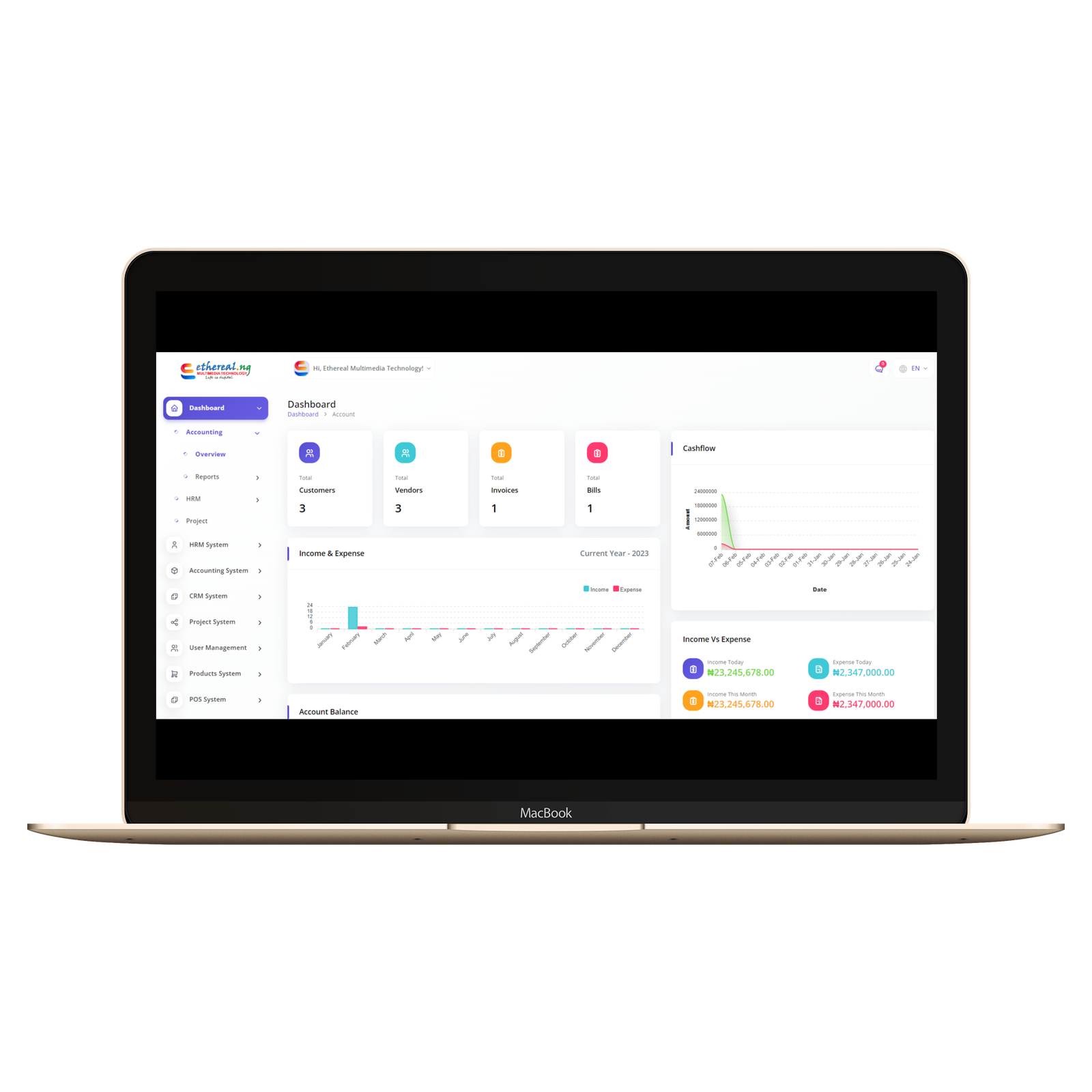 Help Your Employees Become More Productive:
Empower employee growth. Schedule skills training, track expenses and watch your employees become better at their work.
Boost employee productivity with custom KPIs. Track employee performance, share feedback and help them reach company targets.
Set individual goals for your employees. Every employee has a unique role to fill - goals give them direction and focus.
Set benchmarks and grade your employee performance. Find top performers and reward them for their hard work and improvement.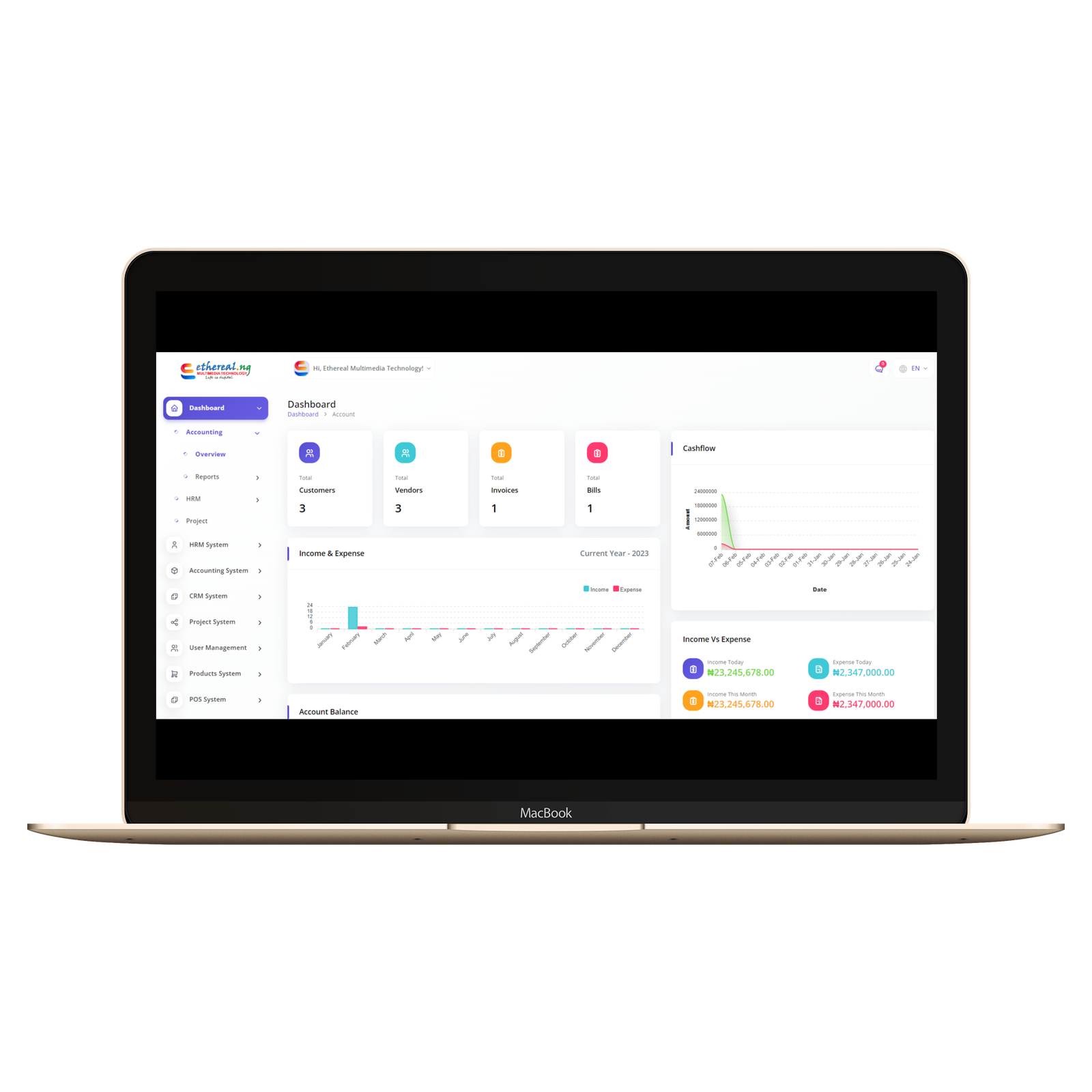 Pay Your Employees for their Hard Work:
Manage payroll in just a few clicks. Calculate salaries, schedule deposits, and make sure your employees get paid on time.
Keep data of all workforce costs, transfers, deposits, and other employee-related transactions for future reference.
Use the built-in 1-click payslip generator to automate and speed up your accounting.
Track employee attendance and overtime to ensure they always receive fair compensation for their work.
Manage Leads & Deals
Assign Projects, Manage Leads,
and Sign Deals
Assign projects, deal with accounting, and collaborate with your team. Manage leads, turn them into clients, and close deals. Get an overview of deals in a week, month, and deals in the last 30 days.
Manage Every Aspects of
Your Business
Assign Tasks, Products, Files, and team members for each deal, manage discussions and notes, where you can manage every aspect of your business using one convenient dashboard.
360 Degrees of Deals Visibility in the System.
Get a calendar view for every deal detail. In short, managing deals has never been easier with the Ethereal ERP 360 degrees of deals visibility in the system.
MAXIMIZE YOUR RESOURCES, CONNECT WITH YOUR CUSTOMERS,
AND BE MORE PRODUCTIVE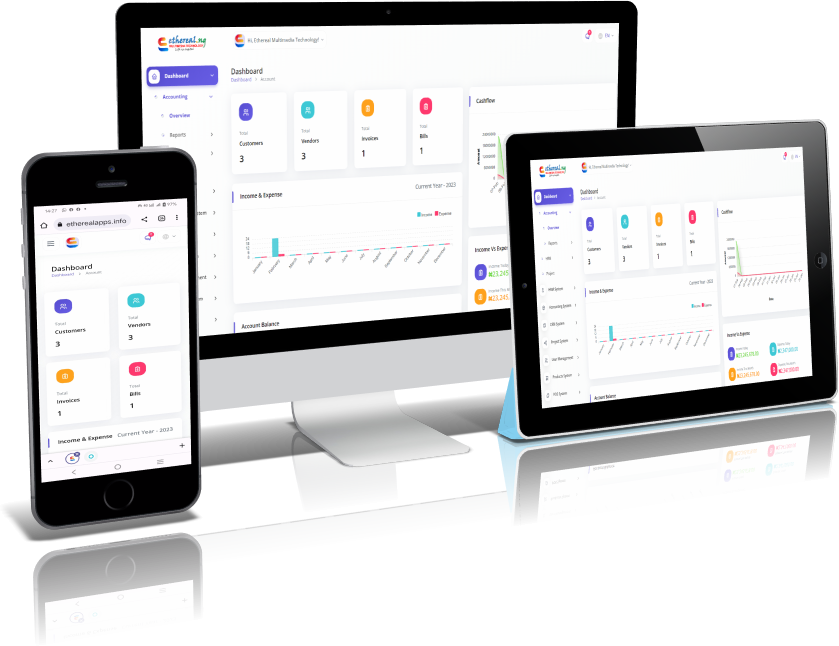 Achieve More in Less Time:
Create projects and assign them to your team members. Split them into more manageable tasks to help your team become more productive.
Set KPIs and track employee performance. Track their warnings,complaints, and awards. Manage all key employee information including leaves, holidays, or training schedules.
Track time spent doing work and view timesheets to see how well your team members are dealing with the tasks assigned.
Invite your team members to discuss individual tasks right in the dashboard or communicate with them via built-in messenger in real-time.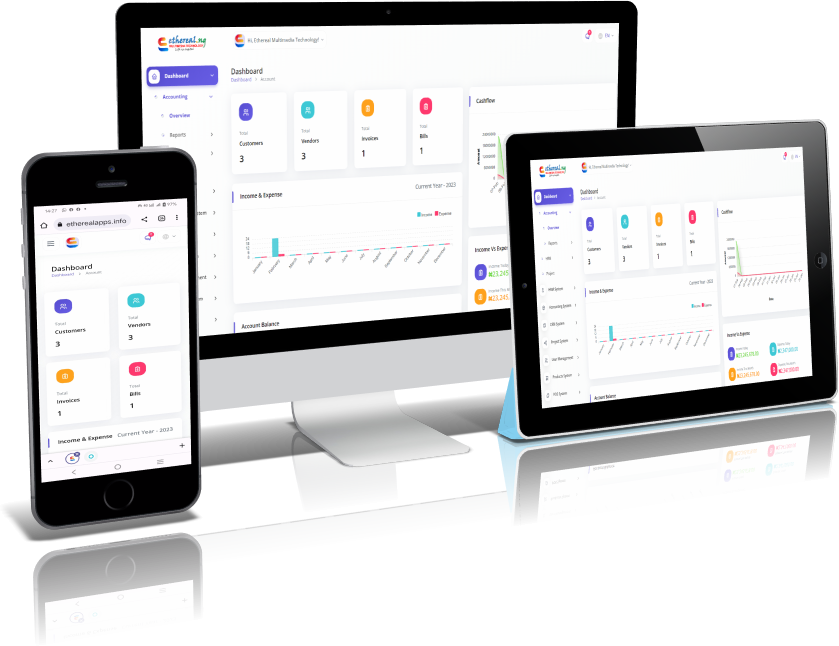 Set Budgets and Control Your Business Finances:
Use key accounting features like Chart of Accounts, Journal Entry,Balance Sheet, Trial Balance, and General Ledger to track your revenue and expenses accurately.
Set future financial goals and track your progress. Work on exceeding your goals, improve your business processes, and boost your income.
Create budgets to better understand where your money is going and get more control over your income and expenses.
Generate invoices, manage taxation and add different payment methods to collect payments easily.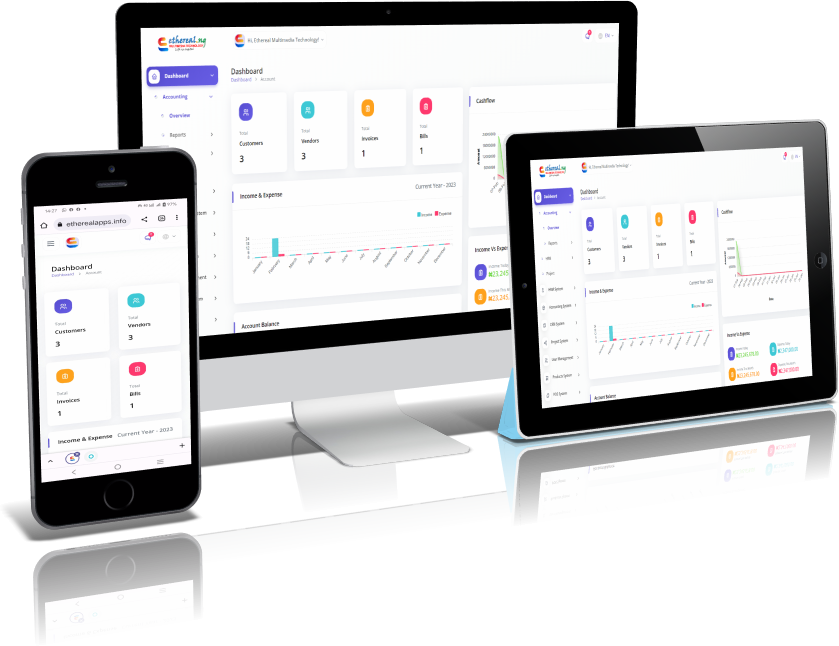 Invoice Your Clients and Manage Your Leads:
Add contracts for each client that you onboard to keep track of all work on your plate and never miss a deadline.
Use a built-in form builder to create opt-ins and get your leads' data added right inside ERPGo.
Create a sales pipeline to track your progress with each lead and turn more of them into clients.
Never miss a single piece of feedback. Invite clients to communicate with you and discuss your projects right inside the tool.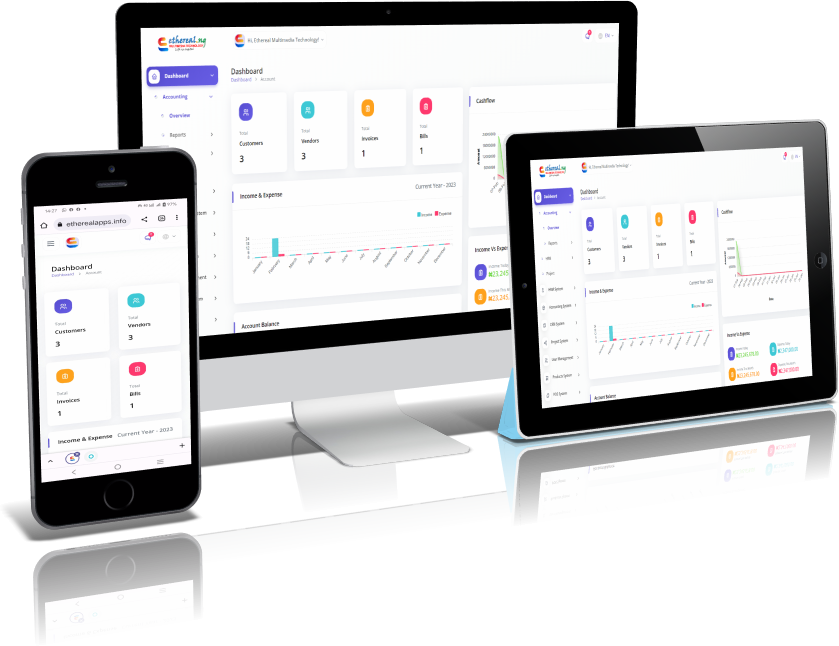 Get a Bird's Eye View of Your Business:
Make faster and smarter decisions. Use a clear dashboard to get all the critical data about your company right after you log in.
Save massive amounts of time and navigate between different parts of your business - from Project Management to HR - in just a few clicks.
Generate reports on all the key areas of your company - from staff productivity to company income or per client revenue.
MANAGING YOUR BUSINESS
EFFECTIVELY

, EASIER THAN EVER BEFORE!
Ethereal ERP

gives you all you need to better organize and manage
your

business growth

.
Staff
Management
Keep track of employee information easily and conveniently. Search for staff through simple filter options, and edit and manage their information as you please.
HR
Management
Manage all aspects of your HR with a simple interface. Get instant access to key information about each employee - from attendance history to training and performance.
Assigning
Roles
Use the multi-user accounting tool to assign roles and permissions to each staff member. Manage staff permissions and take control over access.
Reports
Management
Get detailed, real-time reports to help you keep track of your business performance. Use graphs and other visuals to make data easy to understand and act on.
Goals and
Notes
Got goals in mind? Just set them up and the system will automatically track your progress, so you can just sit back and enjoy the ride.
Events and
Notice Board
Be prepared for events. Create event reminders, add descriptions to them, and assign employees to each of them. You can also issue notices to users, clients, or employees.
Estimates
Management
Generate new estimates for your projects quickly and easily. Manage estimates with ease by assigning clients, status, and expiry dates to each estimate.
Contract
Module
Create legally binding contracts in seconds and keep all your contracts organized in one place. Also get real-time updates on the status of your contracts, and automatically record contract changes.
Chat
Module
Connect directly with your users and clients with a convenient chat module. This enables you to increase customer satisfaction, improve response time, and land more sales.
Payroll
Management
Streamline your payroll tasks. Keep your employees happy with accurate and timely payslips. Generate bulk payments quickly and easily.
Projects
Management
Get an overview of your project status, budget, and due date. Assign and manage priority tasks with a kanban board, and get work done on time and on budget.
Tasks
Management
Filter tasks by priority, due date, and type. Add a checklist to track your progress, and take control of your projects!
Indicator
Appraisal
Get a clear overview of the performance of your departments. Identify areas of improvement in real-time, and streamline processes for better performance.
Leads
Management
Get real-time updates on leads generated through your marketing campaigns. View leads in Kanban or List view. Assign pipelines and stages for better lead management
Deal
Management
Get a complete overview of all your deals in seconds. Assign tasks, products, and users to each deal for better organization
Budget
Planner
Stay in control of your finances! Set your budget and get real-time updates on how well you're sticking to it. Edit and update the budget as often as needed.
Form
Builder
Reduce time spent on form creation and streamline your business processes with easy-to-use, customizable forms. Easily create and manage various form fields as per your business needs.
Customer
Statement Report
Eliminate the hassle of tracking customer statements manually. Get an at-a-glance report of all orders, payments, and transactions with a customer or vendor.
Project
Timesheet
Create a timesheet to stay on top of deadlines. Keep track of the time spent on each project, and get an overview of how much time is left.
Project
Tracking
Use the project tracker application to track the time spent on each project/task. The app takes screenshots as proof of how much time you spent on a particular project/task.
Goal
Tracking
Set your goals and keep track of your journey. Manually edit or update your progress as you go - Stay in control and achieve your goals quickly and easily!
Sales
Management
Keep your sales process organized. Easily edit and manage invoices, payments, expenses, and credit notes.
Inventory
Management
Effortlessly keep track of your inventory. Monitor your stock levels in real time, get notified when inventory levels are low, and make changes when necessary.
Item
Management
Keep an eye on all your items. Add items and assign them categories, sales prices, purchases, taxes, units, and product types. You'll be able to stay organized for years!
Slack
Integration
Get real-time notifications of company activities in your Slack channels. Schedule messages for the future and receive alerts on important updates – all from one easy to use interface!
Zoom
Integration
Eliminate the need to use multiple platforms for virtual meetings. Easily schedule Zoom meetings and sync meeting details and attendees with your calendar - For a smooth conferencing experience.
Telegram
Integration
Never miss important notifications again! Get project notifications sent directly to your Telegram application in real-time. Collaborate better with team members, and stay up-to-date with your projects.
Get All Amazing Features in Just One Tool

At Unbeatable Price!
Regular vs Extended License: If your final work is given away for free, select the Regular License; if it is sold or otherwise only available to paying consumers, select the Extended License.
Still Not Sure About The Needed Solution
Check Our List Of Solutions
Simply sit back and watch as your issues are resolved, business operations are sped up, and team productivity is increased.
Contact Us
We give a helping hand to make sure you start with the right foot.